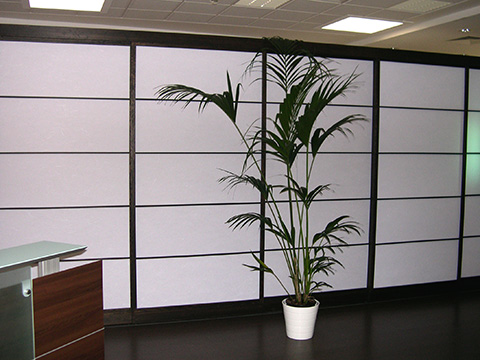 Shoji
•

the ingenious room concept

Shojis – sliding paper-covered lattice frames – are not only an aesthetic design element for interiors in Japan. With Shojis, rooms can be created or divided, windows and niches can be covered, cabinet contents can be hidden and light walls can be shaped. In addition, they make an elegant door element for a built-in wardrobe.
The sliding wall
•

an eye-catcher

Shojis can run from wall to wall and from the floor to the ceiling. The Japanese sliding wall, with the delicate lattice frame covers everything that does not need to be seen. For example, in a built-in wardrobe: colourful jumpers, laundry baskets, file folders, the inevitable ironing board, the ladder, sleeping bags or suitcases.
The Japanese sliding door
•

a space-saving miracle

Replacing cabinet doors with Shoji, makes rooms appear a lot more spacious, lighter and more elegant. The sliding doors don't only make a built-in wardrobe look really attractive, but are very practical everywhere because they require so little space.

Japanese furnished rooms are also optimal for both meditation rooms and bedrooms in this part of the world. We cover the floor with tatami mats, which are framed by a precisely fitting border of wood or gravel. Windows and cupboards are covered with shojis, and the entrance door is a shoji fitted with rungs on both sides.
Custom produced
The production of the Japanese sliding door and sliding wall is carried out according to individual dimensions and requirements (for example, a built-in wardrobe) in our own workshop in Hamburg, Germany. Our standard Shojis can be purchased through retailers (see →List of retailers). In case you are located outside Germany, please contact us directly (→Contact). Then, together with your cabinetmaker, we'll find a solution for the measurement and installation of your custom-made Shojis.
Apart from Shojis, we also manufacture other types of sliding walls and sliding doors in our wood workshop – also without lattice frames as well as built-in wardrobes and custom interiors (see ↑www.fineinteriors.eu).
-
First photo above: Sabine Wendler